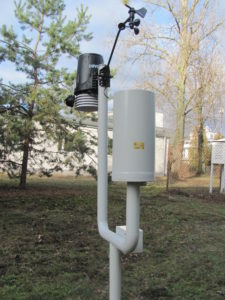 The early warning station TDPMS3 is used for measuring ambient gamma dose equivalent rate H*(10), gamma spectrum and weather parameters (precipitation, wind speed, wind direction, atmospheric pressure, humidity, temperature) in environmental conditions. Station probes are designed for continuous work outdoors.
The station computer collects, stores and transfers the measurement data. The TDPMS3 can be accessed and supervised remotely via VPN using either cable or LTE internet.
Its battery backup allows the station to work without external power for up to 14 days.
The station consists of two parts:
Detector set and weather probes – mounted outdoors
Computer locker and batteries – mounted indoors
Outdoor devices:
TDSG3 probe:

Ambient dose equivalent rate H*(10) – two Geiger-Müller tubes ranging from 50 nSv/h to 2 Sv/h (additionally, dose rate is independently calculated from gamma spectrum)
Gamma spectrum – 3" NaI(Tl) scintillation detector with 512-channels spectrometer

The weather station:

Precipitation – resolution 0.2mm (rain-gauge is equipped with a heater for below-zero snowfall measurement)
Wind speed and direction
Outside temperature
Atmospheric pressure
Indoor part (60x60x30cm locker):
Industrial computer for controlling all devices
Cable internet router and LTE modem
TDS controller with watchdog system and remote reset
Intelligent 230V/13.8V power supply with a battery charger for uninterruptable work
Energy meter with MODBUS readout
Protection circuits and mains fuse
Software
We offer server and client software for communication and visualization. The software collects, processes and stores data from the network of stations. The GUI makes it convenient to monitor the current radiation situation. The software facilitates the analysis of the long-term series of data. The spectrum processing algorithms provide information about the energy peaks corresponding to the radionuclides present in the surrounding environment.